Moisturize & Protect Duo
Receive a free full size Balancing Cleanser when you spend +$75
Ensure skin is hydrated and protected every day with this moisturizer and sunscreen set. Read more
This kit includes
Total Eclipse Priming Mineral SPF 40
Size: 1.38 oz.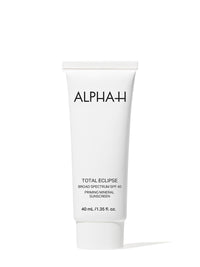 Essential Hydration Cream
Size: 1.69 oz.
Ensure skin is hydrated and protected every day with this moisturizer and sunscreen set.
Vitamin A Serum with 0.5% Retinol
A gentle Retinol serum formulated to accelerate skin renewal and enriched with antioxidant-rich Australian botanicals for a smooth, even and radiant complexion.
Vitamin B Serum with 5% Niacinamide
A deeply hydrating serum designed to protect against free radical damage, hydrate and even tone, whilst supporting the skin's natural barrier function.
Vitamin C Serum with 10% Ethyl Ascorbic Acid
A hydrating daily serum packed with gentle, but powerful new generation Vitamin C to boost brightness.
Vitamin E Serum with 1% Ceramide Complex
A restorative first aid serum for all skin types formulated to support your skin's natural barrier function.